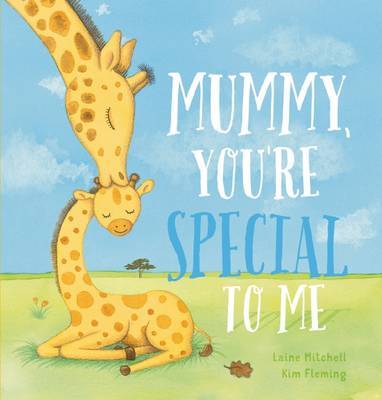 $9.99
AUD
Category: Educational
My mummy tucks me in. She tells stories just right. We make secret wishes. She kisses me goodnight. Mummy, you're special to me. Follow Little Giraffe's journey in this beautiful story to share with your special mummy.
$14.99
AUD
Category: Junior Fiction | Series: WeirDo
Things are getting weirdly crazy and crazy funny! Just when he thought he couldnt get weirder, Weirs back from the dentist and HES WEARING BRACES! How is he going to hide his train tracks from Bella and his friends? It wont be easy... but it will be FUNNY!
$15.99
AUD
Category: Junior Fiction | Series: Star of Deltora
Britta of Del wants nothing less than to be the new Apprentice Trader of the Rosalyn fleet. Family and friends and even the terrible secret of her parentage will not stop her. But how can she succeed when her true identity must surely be guessed by Trader Mab, who knew her father, and the crew of the St ar of Deltora? Relying on no more than her wits and the kind acts of friends she makes along the way, Britta is drawn closer and closer to her terrible destiny. ...Show more
$14.99
AUD
Category: Junior Fiction | Series: How to Train Your Dragon | Reading Level: Children's - Grade 3-4, Age 8-9
Read the HILARIOUS books that inspired the HOW TO TRAIN YOUR DRAGON films! Hiccup Horrendous Haddock the Third is a smallish Viking with a longish name. Hiccup's father is chief of the Hairy Hooligan tribe which means Hiccup is the Hope and the Heir to the Hairy Hooligan throne - but most of the time H iccup feels like a very ordinary boy, finding it hard to be a Hero. High up in the treacherous mists of the Murderous Mountains, Hiccup and the Company of the Dragonmark are in hiding. The witch's Spydragons are guarding the shores of Tomorrow - but Hiccup is determined to become King of the Wilderwest. Can Hiccup dodge the dragons and steal the King's Things back from Alvin before the Doomsday of Yule? And is there a traitor in Hiccup's camp who in the end will betray them all? READ ALL 12 BOOKS IN THE SERIES! You don't have to read the books in order, but if you want to, this is the right order: 1. How to Train Your Dragon 2. How to Be a Pirate 3. How to Speak Dragonese 4. How to Cheat a Dragon's Curse 5. How to Twist a Dragon's Tale 6. A Hero's Guide to Deadly Dragons 7. How to Ride a Dragon's Storm 8. How to Break a Dragon's Heart 9. How to Steal a Dragon's Sword 10. How to Seize a Dragon's Jewel 11. How to Betray a Dragon's Hero 12. How to Fight a Dragon's Fury How to Train Your Dragon is now a major DreamWorks franchise starring Gerard Butler, Cate Blanchett and Jonah Hill and the TV series, Riders of Berk, can be seen on CBeebies and Cartoon Network. ...Show more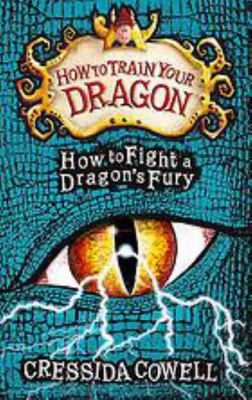 $19.99
AUD
Category: Junior Fiction | Series: Hiccup
Dragons vs Humans: is this the end? Find out in the twelfth book in the How to Train Your Dragon series. It is the Doomsday of Yule. At the end of this day, either the humans or the dragons will face extinction. Alvin the Treacherous is about to be crowned the King of the Wilderwest on the island of Tom orrow. His reign of terror will begin with the destruction of dragons everywhere. The fate of the dragon world lies in the hands of one young boy as he stands on the nearby isle of Hero's End with nothing to show, but everything to fight for. Hiccup Horrendous Haddock the Third's Quest is clear. First he must defeat the Dragon Guardians of Tomorrow and prove that he is in fact the rightful king, even though Hiccup has none of the King's Things and Alvin the Treacherous has all ten of them. And then he faces his final battle: Hiccup must fight the Dragon Furious and end the Rebellion ...ALONE. As Doomsday draws to an end can Hiccup be the Hero of the hour? Will the dragons survive? How to Train Your Dragon is now a major DreamWorks franchise. How to Train Your Dragon 3 is scheduled for 2017 starring Cate Blanchett and Jonah Hill and the TV series, Defenders of Berk, can be seen on CBBC and Netflix. Read all of Hiccup's exploits in the series: How to Train Your Dragon, How to Be a Pirate, How to Speak Dragonese, How to Cheat a Dragon's Curse, How to Twist a Dragon's Tale, A Hero's Guide to Deadly Dragons, How to Ride a Dragon's Storm, How to Break a Dragon's Heart, How to Steal a Dragon's Sword, How to Seize a Dragon's Jewel and How to Betray a Dragon's Hero. Check out the brilliant website at www.howtotrainyourdragonbooks.com It's the place to go for games, downloads, activities and sneak peeks! ...Show more
$14.99
AUD
Category: Junior Fiction | Series: How to Train Your Dragon | Reading Level: 7+
Read the HILARIOUS books that inspired the HOW TO TRAIN YOUR DRAGON films! Hiccup Horrendous Haddock the Third is a smallish Viking with a longish name. Hiccup's father is chief of the Hairy Hooligan tribe which means Hiccup is the Hope and the Heir to the Hairy Hooligan throne - but most of the time H iccup feels like a very ordinary boy, finding it hard to be a Hero. Bad times have come to the Archipelago. Ever since the woods of Berserk burned down, it is almost as if the world is cursed. Dragons are starting to revolt against their Masters. The waters have risen, flooding fields and washing whole villages away. But worse still, the wicked witch Excellinor has returned. Can Hiccup find the King's Things and win the sword-fighting contest to stop Alvin the Treacherous from becoming King of the Wilderwest? ***Please note this ebook is TEXT ONLY and does not include the illustrations that appear in the printed book.*** READ ALL 12 BOOKS IN THE SERIES! You don't have to read the books in order, but if you want to, this is the right order: 1. How to Train Your Dragon 2. How to Be a Pirate 3. How to Speak Dragonese 4. How to Cheat a Dragon's Curse 5. How to Twist a Dragon's Tale 6. A Hero's Guide to Deadly Dragons 7. How to Ride a Dragon's Storm 8. How to Break a Dragon's Heart 9. How to Steal a Dragon's Sword 10. How to Seize a Dragon's Jewel 11. How to Betray a Dragon's Hero 12. How to Fight a Dragon's Fury How to Train Your Dragon is now a major DreamWorks franchise starring Gerard Butler, Cate Blanchett and Jonah Hill and the TV series, Riders of Berk, can be seen on CBeebies and Cartoon Network. ...Show more
$14.99
AUD
Category: Junior Fiction | Series: How to Train Your Dragon | Reading Level: 7+
Listen to the books that inspired the How to Train Your Dragon films in this unabridged recording narrated by David Tennant! This book will be a hit with children and adults alike. THE STORY CONTINUES in the sixth volume of Hiccup's How to Train Your Dragon memoirs... Hiccup Horrendous Haddock III was an awesome sword-fighter, a dragon-whisperer and the greatest Viking Hero who ever lived. But it wasn't always like that. Hiccup's memoirs look back to when Hiccup was just an ordinary boy, and finding it very hard to be a Hero. Hiccup is lost in the Library Labyrinth and the Driller-Dragons and Madguts and Murderous are on the prowl. Hiccup's birthday is not going to be the quiet affair he might have hoped for. Also contains a comprehensive Dragonese Dictionary for those who'd like to dragon-whisper as well as the dragon-whisperer himself. How to Train Your Dragon is now a major DreamWorks franchise starring Gerard Butler, Cate Blanchett and Jonah Hill and the TV series, Riders of Berk, can be seen on CBeebies and Cartoon Network. Read all of Hiccup's exploits in the series: How to Train Your Dragon, How to Be a Pirate, How to Speak Dragonese, How to Cheat a Dragon's Curse, How to Twist a Dragon's Tale, A Hero's Guide to Deadly Dragons, How to Ride a Dragon's Storm, How to Break a Dragon's Heart, How to Steal a Dragon's Sword, How to Seize a Dragon's Jewel and How to Betray a Dragon's Hero. Check out the brilliant website at www.howtotrainyourdragonbooks.com It's the place to go for games, downloads, activities and sneak peeks! ...Show more
$14.99
AUD
Category: Junior Fiction | Series: How to Train Your Dragon | Reading Level: 7+
Listen to the books that inspired the How to Train Your Dragon films in this unabridged recording narrated by David Tennant! This audiobook will be a hit with children and adults alike. THE STORY CONTINUES in the seventh volume of Hiccup's How to Train Your Dragon memoirs ... Hiccup Horrendous Haddock III was an awesome sword-fighter, a dragon-whisperer and the greatest Viking Hero who ever lived. But it wasn't always like that. Hiccup's memoirs look back to when Hiccup was just an ordinary boy, and finding it very hard to be a Hero. Hiccup has three months, five days and six hours to discover America, get back to Berk, save his father, battle Polarserpents, AND win the annual Inter-Tribal Friendly Swimming Race. Can he do it? (Tick-tock-tick-tock-tick-tock) How to Train Your Dragon is now a major DreamWorks franchise starring Gerard Butler, Cate Blanchett and Jonah Hill and the TV series, Riders of Berk, can be seen on CBeebies and Cartoon Network. Read all of Hiccup's exploits in the series: How to Train Your Dragon, How to Be a Pirate, How to Speak Dragonese, How to Cheat a Dragon's Curse, How to Twist a Dragon's Tale, A Hero's Guide to Deadly Dragons, How to Ride a Dragon's Storm, How to Break a Dragon's Heart, How to Steal a Dragon's Sword, How to Seize a Dragon's Jewel and How to Betray a Dragon's Hero. Check out the brilliant website at www.howtotrainyourdragonbooks.com It's the place to go for games, downloads, activities and sneak peeks! ...Show more
$14.99
AUD
Category: Junior Fiction | Series: How to Train Your Dragon | Reading Level: 7+
Listen to the books that inspired the How to Train Your Dragon films in these unabridged recordings read by David Tennant! These books will be a hit with children and adults alike. THE STORY CONTINUES in the eighth volume of Hiccup's How to Train Your Dragon memoirs... Hiccup Horrendous Haddock III wa s an awesome sword-fighter, a dragon-whisperer and the greatest Viking Hero who ever lived. But it wasn't always like that. Hiccup's memoirs look back to when Hiccup was just an ordinary boy, and finding it very hard to be a Hero. Hiccup must battle Berserks, dodge Scarers, complete the Impossible Task and save Fishlegs from being fed to the Beast! And all while being hunted down by an old enemy with a dark secret about the Lost Throne. What's a Hero to do? How to Train Your Dragon is now a major DreamWorks franchise starring Gerard Butler, Cate Blanchett and Jonah Hill and the TV series, Riders of Berk, can be seen on CBeebies and Cartoon Network. Read all of Hiccup's exploits in the series: How to Train Your Dragon, How to Be a Pirate, How to Speak Dragonese, How to Cheat a Dragon's Curse, How to Twist a Dragon's Tale, A Hero's Guide to Deadly Dragons, How to Ride a Dragon's Storm, How to Break a Dragon's Heart, How to Steal a Dragon's Sword, How to Seize a Dragon's Jewel and How to Betray a Dragon's Hero. Check out the brilliant website at www.howtotrainyourdragonbooks.com It's the place to go for games, downloads, activities and sneak peeks! ...Show more
$14.99
AUD
Category: Junior Fiction | Series: How to Train Your Dragon | Reading Level: 7+
Don't miss an action-packed, hilarious, heart-warming moment of the bestselling series that inspired the hit movies   Hiccup Horrendous Haddock III's best friend, Fishlegs, has been stung by the deadly Venomous Vorpent The only cure is the Vegetable-That-No-One-Dares-Name. But where will Hiccup find such a thing? He'll have to dodge the terrible Sharkworms, battle Doomfangs, and outwit crazy Hooligans if he's going to be a Hero (again).   A fast paced plot, plenty of action, slapstick humor, witty dialogue, and imaginative black and white illustrations make this fourth adventure in Cressida Cowell's beloved and bestselling How to Train Your Dragon series a must-read. ...Show more
$10.00
AUD
$12.99
(23% off)
Category: SECONDHAND BOOKS | Series: Bum Trilogy | Reading Level: 9+
This is my story. It really happened. It's all true. Not even the names have been changed. Like most people I took my bum for granted. I agreed to tell my story in the hope that others could learn from it. If this book can save even just one person from making the same mistake, then I will be happy. Who knows? The next bum it saves might be yours. Zack Freeman September, 2001.Zack Freeman is ready to tell his story. The story of a boy and his crazy runaway bum. The story of a crack bum-fighting unit called the B-team, a legendary Bum Hunter and his formidable daughter, and some of the biggest, ugliest and meanest bums ever to roam the face of the Earth. A story of courage and endurance that takes Zack on a journey across the Great Windy Desert, through the Brown Forest and over the Sea of Bums before descending into the heart of an explosive bumcano to confront the biggest, ugliest and meanest bum of them all... ...Show more
$12.99
AUD
Category: Junior Fiction | Series: Treehouse
Winner of the ABIA Book of the Year Award Andy and Terry's incredible, ever-expanding treehouse has thirteen new storeys, including a watermelon-smashing level, a wave machine, a life-size snakes and ladders game (with real ladders and real snakes!), a rocket-powered carrot launcher, a Ninja Snail Trai ning Academy and a high-tech detective agency with all the latest high-tech detective technology. Which is lucky, because they have a BIG mystery to solve - Where is Mr Big Nose??? Well, what are you waiting for? Come on up! The 52-Storey Treehouse is the fourth book in Andy Griffiths and Terry Denton's wacky treehouse adventures, where the laugh-out-loud story is told through a combination of text and fantastic cartoon-style illustrations. ...Show more