$10.00
AUD
$12.99
(23% off)
Category: SECONDHAND BOOKS | Series: Bum Trilogy
First there was The Day My Bum Went Psycho... Then there was Zombie Bums from Uranus... Now, Join Zack Freeman and his bum in the pongflict to end all pongflicts... Bums! Action! Adventure! Romance! Robots! Time travel! Prehistoric bums! Giant brown blobs! Huge arseteriods! And more bums!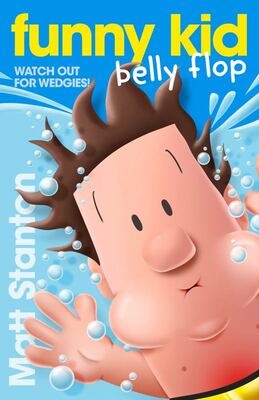 $14.99
AUD
Category: Junior Fiction | Series: Funny Kid
Laugh your head off with the Funny Kid series, from million-copy bestseller Matt Stanton! Every kid wants to laugh, but Max is the boy who can make it happen. Max and Abby hardly ever agree on anything ... until now! They are both desperate to get out of this Friday's swimming carnival. Max is the funn y kid, and there's a swimming carnival that needs cancelling! A sea-monster, the maths olympiad, spotty rashes, good twin vs bad twin and a swimming instructor named Chad are just some of the things in store for Max and his friends in this brand-new Funny Kid adventure. FUNNY KID is the mega-bestselling series from author-illustrator Matt Stanton that's got everyone laughing! MORE PRAISE FOR FUNNY KID 'my favourite thing in the book was everything' - Elliott 'better than Wimpy Kid, Big Nate and Tom Gates combined' - Ally 'humour is injected into every page' - Children's Book Council of Australia's Reading Time 'absolutely hilarious' - Tim Harris, author of the Exploding Endings series ...Show more
$16.99
AUD
Category: Junior Fiction | Series: The Land of Stories | Reading Level: Children's - Grade 4-6, Age 9-11
Fairy tales are just the beginning. The Masked Man is on the loose in the Land of Stories, and it's up to Alex and Conner Bailey to stop him . . . except Alex has been thrown off the Fairy Council, and no one will believe they're in danger. With only the help of the ragtag group of Goldilocks, Jack, R ed Riding Hood, and Mother Goose and her gander, Lester, the Bailey twins discover the Masked Man's secret scheme: he possesses a powerful magic potion that turns every book it touches into a portal, and he is recruiting an army of literature's greatest villains! So begins a race through the magical Land of Oz, the fantastical world of Neverland, the madness of Wonderland, and beyond. Can Alex and Conner catch up to the Masked Man, or will they be one step behind until it's too late? Fairy tales and classic stories collide in the fourth adventure in the bestselling Land of Stories series as the twins travel beyond the kingdoms! ...Show more
$12.99
AUD
Category: Junior Fiction
Two intrepid girls go from ladies-in-waiting to knights-in-action when they rip up the rule book and go searching for adventure! Wondermere is the luckiest kingdom in the land, all thanks to the dragons that nest on top of the castle. Nobody wants them to fly away, so everyone has to FOLLOW THE RULES a nd make sure everything STAYS THE SAME to keep the dragons HAPPY. P rincess Grace HATES the rules. They stop her doing everything she loves, like PLAYING TROLL-O and WEARING TROUSERS and training to be a BRAVE KNIGHT. Why do boys get all the FUN! Determined to prove that the rules are a LOAD OF OLD SWAMP ROT, Grace and her sister Princess Portia secretly enter the year's BIGGEST TROLL-O TOURNAMENT. A couple of rule-breakers couldn't possibly disturb the dragons could they? Cheeky, charming and laugh-out-loud funny, the debut young fiction series from bestselling picture book author Michelle Robinson is chock-full of chuckles (and grumpy unicorns). Perfect for fans of Cressida Cowell, Pamela Butchart and Emer Stamp. ...Show more
$16.99
AUD
Category: Junior Fiction
After a traumatic run-in with the fortune teller from a visiting funfair-thanks to an unfortunately-timed sneeze-Riley finds himself CURSED. Life as he knows it quickly becomes a catalogue of disasters-from wetting himself onstage during the school show, accidentally supergluing himself to his classmate s and ruining the school football team's sponsorship deal, to flooding his house and losing class 4's pet rabbit-Riley knows the bad luck is out to get him. Enter new kid: Brad Chicago. He's super-cool, well-groomed and stylish, with an excellent stationery collection. And for some reason he wants to be Riley's friend. Can Riley get rid of the curse before Brad discovers he's a walking disaster? ...Show more
$7.99
AUD
Category: Junior Fiction | Series: Ella and Olivia
Ella and Olivia are on a quest to find as many butterflies as they can, with the help of some new friends. It's time to get down to butterfly business!
$12.99
AUD
Category: Junior Fiction | Series: Tom Gates Ser.
Don't get bored - get busy! The must-have activity book for fans of Tom Gates: packed with drawing guides, fun games, brilliant puzzles and perfect pranks to play on older sisters - there's hours of fun ahead! Previously published in hardback in 2014 as The Brilliant World of Tom Gates Annual: now with added brand new pages from Liz.   ...Show more
$17.99
AUD
Category: Junior Fiction | Series: Dog Man
A brand-new graphic novel series by Dav Pilkey, the internationally bestselling author and illustrator of the DOG MAN and CAPTAIN UNDERPANTS series. Welcome to the Cat Kid Comic Club, where Li'l Petey (LP), Flippy, and Molly introduce twenty-one rambunctious, funny, and talented baby frogs to the art of comic making. As the story unwinds with mishaps and hilarity, readers get to see the progress, mistakes, and improvements that come with practice and persistence. Squid Kid and Katydid, Baby Frog Squad, Gorilla Cheese Sandwich, and Birds Flowers Tree: A Haiku Photo Comic are just some of the mini-comics that are included as stories-within-the-story, each done in a different style, utilizing humour and drama, prose and poetry, illustrated in different media including acrylics, pastels, coloured pencils, felt-tip markers, clay, hand-made cardboard sculptures, photographs, pipe cleaners, construction paper collages, and cookies. Readers of all ages will be inspired to dream up their own stories and unleash their own creativity as they dive into this pioneering graphic novel adventure from Dav Pilkey and his heartfelt, humorous, and amazing cast of characters in the Cat Kid Comic Club. ...Show more
$20.00
AUD
Category: SECONDHAND BOOKS
Gaylen, the King's messenger, a skinny boy of twelve, is off to poll the kingdom, traveling from town to farmstead to town on his horse, Marrow. At first it is merely a question of disagreement at the royal castle over which food should stand for Delicious in the new dictionary. But soon it seems that t he search for Delicious had better succeed if civil war is to be avoided. Gaylen's quest leads him to the woldweller, a wise, 900-year-old creature who lives alone at the precise center of the forest; to Canto, the minstrel who sings him an old song about a mermaid child and who gives him a peculiar good-luck charm; to the underground domain of the dwarfs; and finally to Ardis who might save the kingdom from havoc. The Search for Delicious is a 1969 New York Times Book Review Notable Children's Book of the Year. ...Show more
$35.00
AUD
$65.95
(46% off)
Category: SECONDHAND BOOKS
A collection of some of the best works of Australia's classic illustrators and story tellers. The book contains critical surveys of each illustrator's life and work. These are followed by a selection of their writing.