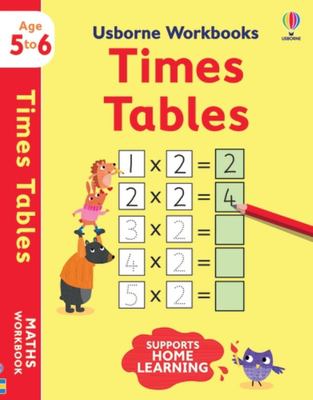 $12.99
AUD
Category: Educational | Series: Key Skills Workbook Ser.
A colourful workbook filled with fun activities to help children develop their times tables skills. Helped by a group of friendly animals, children can begin to explore times tables. The activities in this book build confidence in understanding multiplication, and provide practice for the 2, 5 and 10 ti mes tables. Usborne Workbooks teach children the basics of a variety of Maths and English topics, including times tables, adding, comprehension and spelling. Clear instructions and careful progression help to break tricky concepts into easy-to-follow steps to ensure children get the most from these books. Includes a quiz, extra pages for more practice, answers and notes for grown-ups. ...Show more
$14.99
AUD
Category: Educational
Find out why you should always hug a koala in this adorable board book! The sweet, gentle rhyme introduces a range of popular Australian animals, and children will love exploring the fun touches throughout!
$14.99
AUD
Category: Educational | Series: Never Touch
You must never touch a koala... except in this book! This touch-and-feel book is perfect for young children. They will love reading the funny rhyme that warns of the dangers of touching a koalaand then ignoring the advice! Innovative silicone touches feature throughout the book, with a different texture for children to explore on every spread. ...Show more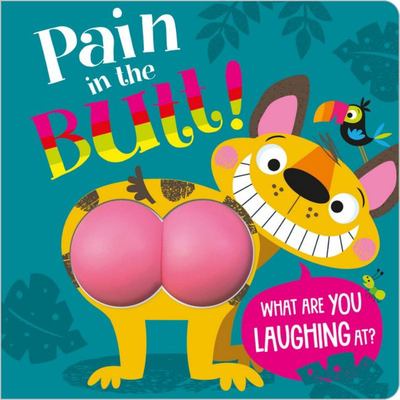 $14.99
AUD
Category: Educational
Join in with the animal friends as they teach Hyena a lesson about butting out. Children will love squishing the butts of various wild animals throughout this hilarious board book. The squidgy butt-shaped touch is attached to the last page and die-cut through to the cover, so its visible on every spread ! ...Show more
$17.99
AUD
Category: Picture Books
Introducing the next book in our popular groovicorns range! In this story, the groovicorns visit Moanhattan city to try and cheer up the gray city gloomicorns, but the gloomicorns never look up from their phones! Adults and children alike will enjoy this story, with a great message about interacting wit h the world, not our screens! ...Show more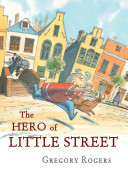 $50.00
AUD
Category: Picture Books
Action, adventure, and time travel combine in the final book of an award-winning trilogy.Narrowly escaping from a gang of bullies, a boy slips into a grand old gallery--the perfect hiding place, full of mystery and treasures. Suddenly, a painting comes to life and the boy finds himself on an adventure l ed by a mischievous dog that has leapt from the canvas. The two slip into a Vermeer painting and are transported to Little Street, Delft in seventeenth-century Holland, where the boy has to use every ounce of his ingenuity to rescue his new friend from an untimely fate. The third book in the "Boy, Bear" series, The Hero of Little Street is packed with thrilling escapades from start to finish. Gregory Rogers's cast of much-loved characters come together once again in this triumph of visual storytelling. ...Show more
$9.99
AUD
Category: Junior Fiction | Series: The\Babysitters Club Ser.
Mary Anne has never been a leader of the Baby-sitters Club. She's left that up to Kristy... or Claudia... or Stacey. But now there's a big fight among the four friends, and Mary Anne doesn't have them to depend on anymore. It's bad enough when she's left alone at the lunch table at school. But when she has to baby-sit a sick child without any help from the club members, Mary Anne knows it's time to take charge. The Baby-sitters Club is going to fall apart unless somebody does something-fast. Maybe it's time for Mary Anne to step in and save the day! ...Show more
$10.00
AUD
Category: SECONDHAND BOOKS
A collection of poems about such Australian animals as Weary Will the Wombat, Old Man Platypus, and Benjamin Bandicoot.
$18.99
AUD
Category: Young Adult
From Marissa Meyer, the #1 New York Times-bestselling story of Wonderland's most notorious villain: the Queen of Hearts. Long before she was the terror of Wonderland--the infamous Queen of Hearts--she was just a girl who wanted to fall in love. Catherine may be one of the most desired girls in Wonderl and, and a favorite of the unmarried King of Hearts, but her interests lie elsewhere. A talented baker, all she wants is to open a shop with her best friend. But according to her mother, such a goal is unthinkable for the young woman who could be the next queen. Then Cath meets Jest, the handsome and mysterious court joker. For the first time, she feels the pull of true attraction. At the risk of offending the king and infuriating her parents, she and Jest enter into an intense, secret courtship. Cath is determined to define her own destiny and fall in love on her terms. But in a land thriving with magic, madness, and monsters, fate has other plans. In her first stand-alone teen novel, the New York Times-bestselling author of the Lunar Chronicles dazzles us with a prequel to Alice's Adventures in Wonderland. Praise for Heartless "In Heartless, the nonsense that is Wonderland gets a reverential makeover, full of heart and its own idiosyncratic character." --Gregory Maguire, author of Wicked and After Alice "What Gregory Maguire did for the Wicked Witch, Meyer does for Lewis Carroll's Queen of Hearts, tracing her arc from a teen with dreams of owning a bakery into a murderous madwoman." --People magazine "Will make readers grin like the Cheshire Cat." --Common Sense Media "Jest and Catherine have a playfully clandestine relationship. . . . Meyer's worldbuilding is extensive and impressive." --Publishers Weekly "The author's best fantasy yet. . . . Meyer has woven all the elements of darkness and light, fate and free will, and love and hatred into an unforgettable story of the evolution of the Red Queen from a young girl who dreamed of true love and freedom to a madwoman best remembered for the phrase 'Off with his head.' If you only read one fractured fairy tale this year, make it Heartless. A must-have title." --School Library Journal, starred review Praise for Marissa Meyer's Lunar Chronicles series #1 New York Times Bestselling Series, USA Today Bestseller, Publishers Weekly Bestseller, National Indie Bestseller "Marissa Meyer rocks the fractured fairy tale genre." --The Seattle Times "Prince Charming among the cyborgs." --The Wall Street Journal Don't miss more from Marissa Meyer The Lunar Chronicles: Cinder Scarlet Cress WinterStars Above Fairest The Wires and Nerve series: Wires and Nerve: Volume 1 Wires and Nerve: Volume 2Renegades ...Show more

$12.99
AUD
Category: Educational
The latest title in DK's new alphabet series, Q is for Quokka features quokka-related words that begin with the letter q. Take a first look at the fascinating world of quokkas in this beautifully illustrated nonfiction picture book for babies and toddlers. Part of DK's illustrated animal alphabet serie s, Q is for Quokka is the seventeenth picture book installment, a perfect first gift for babies and toddlers. The friendly, read-aloud text and delightful illustrations will have young animal-lovers smiling in no time as they learn fun words about quokkas that all begin with the letter q. Have fun with your little one by pointing to the colorful illustrations that tell the story of these cute creatures. Learn how quizzical quokkas find their next meal, discover how baby quokkas get around, and see what these super-smiley creatures are up to when the rest of the world is asleep. Filled with simple, playful facts, Q is for Quokka provides lots to talk about and lots to look at for curious, animal-loving babies and toddlers everywhere. ...Show more
$24.99
AUD
Category: Picture Books
Possum wakes unexpectedly one day and wants to know where the stars go in the morning. His friends, such as bungarra, rakali, numbat and galah, all have ideas and he spends a wonderful day discovering 'stars' in his environment. So wonderful, in fact, that even when his mother helps him discover the tru e answer, he still plans to look for more stars the next day. ...Show more
$16.99
AUD
Category: Junior Fiction
It's midnight and I'm alone in the kitchen eating a cold potato scallop. Coach O'Call would say something like, 'That's not what I expect from a scholarship girl!' because I have to be up for squad training in five hours and I'm not supposed to go near potato scallops, and--oh, yeah--it's my fifth. Cat has recently started at a new school on a sports scholarship, and she's feeling the pressure of early morning training sessions and the need for total commitment. Fanny loves to swim and she lives for racing, but family chores and low expectations for girls make it very hard for her to fit in even the occasional training session. Cat and Fanny have never met. They both live in the same Sydney suburb, but in different worlds, or at least different times: Cat in current-day Sydney, and Fanny in 1908. But one day, time slips and they swap places. As each girl lives the other's life, with all the challenges and confusion it presents, she comes to appreciate and understand herself and the role of swimming in her own life. Narrated in alternating chapters by Cat and Fanny, Elsewhere Girlsis a moving and funny story of two girls with a deep connection, one based on the Australian Olympic champion, Fanny Durack. It's a fresh and engaging exploration of the challenges and pressures for young women growing up in the past and today. Emily Galeand Nova Weetmanare friends and writers. They both live in Melbourne--at the same time--and they love swimming. Emily has been involved in the children's book industry for twenty years. Her books include Eliza Boom's Diary, Girl, Aloud, Steal My Sunshineand The Other Side of Summerand its companion novel I Am Out with Lanterns. Nova has written thirteen books for young adults and children. Her middle grade books include the much-loved novels The Secrets We Keep, The Secrets We Shareand Sick Bay. ...Show more