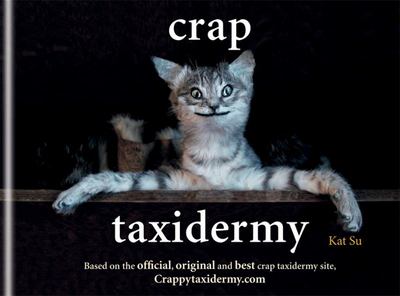 $10.00
AUD
$14.99
(33% off)
Category: SECONDHAND BOOKS
You won't know whether to laugh or cry at these spectacularly bad attempts at taxidermy, brought to you courtesy of the hit website crappytaxidermy.com. The site's plethora of bad taxidermy examples - including a squirrel riding a rattlesnake like a cowboy, and various anatomically imaginative rendering s of all creatures great and small - have proved hugely popular. Here the very best of the worst stuffed animals are brought together in one full-colour volume; with additional features including a DIY 'Stuff Your Own Mouse' lesson, and an author's introduction to the craze for getting stuffed. ...Show more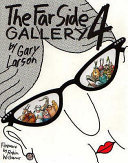 $10.00
AUD
Category: SECONDHAND BOOKS
This fourth collection of The Far Side cartoons ranges from neanderthals to nerds, dogs to dinosaurs and horses to humans. Yet again, the author's odd and dark sense of humour is expressed in the doings of man and beast.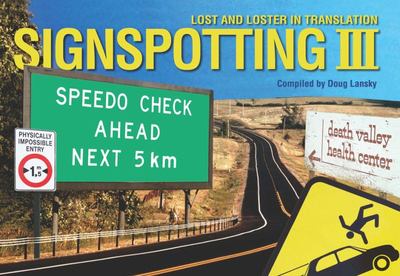 $10.00
AUD
Category: SECONDHAND BOOKS
A full-color illustrated collection of humorous, confusing, and amusing signs from around the globe. From ?UFO University? to ?Speedo Check Ahead? to ?Fecal Face Dot Gallery, ? Signspotting III: Lost and Loster in Translation takes the reader on a pictorial worldwide tour of the bizarre and hysterical s treet signs and advertisements that provide way more laughs than information. ...Show more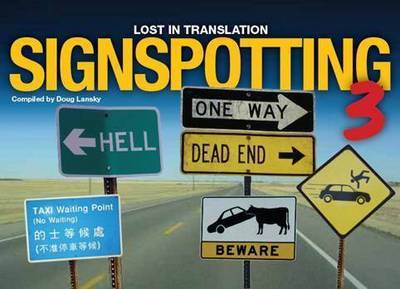 $10.00
AUD
Category: SECONDHAND BOOKS
Happily, this plague of funny signs shows no sign of abating and this third collection is the silliest and fruitiest yet. "Signspotting 3" will bring whoops of glee to even the most stalwart misery.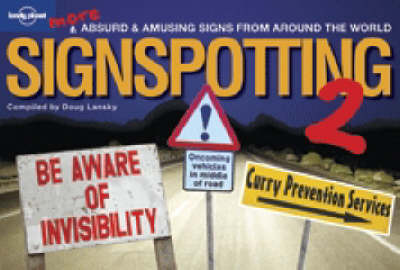 $10.00
AUD
$19.95
(49% off)
Category: SECONDHAND BOOKS | Series: Lonely Planet Pictorial
Lonely Planet: The world's leading travel guide publisher* It's easy to get lost in translation - and it can be hard to find your way back when signs tell you to 'beware of missing foot' or a menu offers 'tasteless coffee'. The world of gaffs and good ol' miscommunications is back:Signspotting 2 is a ro und-up of the world's most perplexing signs and garbled messages. Now, who's in the mood for a serve of 'fried pimple'? Author: Doug Lansky About Lonely Planet: Started in 1973, Lonely Planet has become the world's leading travel guide publisher with guidebooks to every destination on the planet, as well as an award-winning website, a suite of mobile and digital travel products, and a dedicated traveller community. Lonely Planet's mission is to enable curious travellers to experience the world and to truly get to the heart of the places where they travel. TripAdvisor Travellers' Choice Awards 2012 and 2013 winner in Favorite Travel Guide category 'Lonely Planet guides are, quite simply, like no other.' - New York Times 'Lonely Planet. It's on everyone's bookshelves; it's in every traveller's hands. It's on mobile phones. It's on the Internet. It's everywhere, and it's telling entire generations of people how to travel the world.' - Fairfax Media (Australia) *#1 in the world market share - source: Nielsen Bookscan. Australia, UK and USA. March 2012-January 2013 ...Show more