Holding Up A Mirror: How Civilizations Decline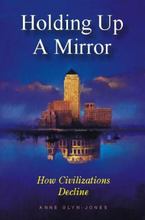 Stock information
: $30

.00

(AUD)

: 9780907845607
: Imprint Academic
: Imprint Academic
:
:
: January 1996
: 229mm X 152mm X 114mm
: United Kingdom
: 25.0
:
:
:
: books
:
:
:
:
:
:
:
:
: 652
: Anne Glyn-Jones
:
: 909
: English
:
:
: Paperback
:
9780907845607
Local Description
1996. A near fine copy only marked by minor creasing to the wraps.
Description
The good news is: that faith in material goods really does bring prosperity to society. The bad news is: that self-same commitment to material things leads inexorably to the destruction of the civilizations it builds. Using theatre as a measure society's health, this book shows that Ancient Greece and Rome, Mediaeval Christendom and our own contemporary society all follow the same pattern: prosperity thrives on the conviction that the material world alone constitutes true 'reality'; but that very conviction leads to a rejection of the supernatural, undermines absolute moral standards, and leads to cultural and social disintegration.
Table of contents
Illusion and realtiy - does it matter which is which?; from metaphysics tp physics - from the 4th to the 6th century in Greece; Hellenistic pleasure and prosperity - the fourth to the second centuries; the Greek world disintegrates - the 1st and 2nd centuries; sententious to saucy - the Roman world, C3BC-C1AD; pity or fear? or brutalization? the rise and rise of the ampitheatre; the ascendancy of the senses; the fruits of materialism; paying the price - the 2nd and 3rd centuries; the shattering of the mirror - the 4th to 6th centuries; through a glass darkly - the 6th to 10th centuries; scholars and scientista - the 10th to 12th centuries; from mass to melodrama - C12-C15AD; post-reformation ambiguities - the 16th to mid-17th centuries; rights supplant rites - the mid-17th to late 18th centuries; technology triumphant - the 18th century; propriety and prosperity - the 19th century; secular certainties - the 20th century; art for art's sake; cause and effect; where the rainbow ends; straws in the wind.